By Angel Everett
It's impossible to measure the joy that pets bring into our lives. For many elderly people, pets are their reason to get up each morning! Did you know that pets provide therapy for older adults? Research has found that stroke victims recover their speech faster because they talk to their pets.
Assisted-living facilities and nursing homes have discovered the benefits of having pets around. Many will now allow their residents to keep a pet. It's just good business – happy clients are the best advertisement! Elders who move into a facility with a pet, adjust much easier, making it easier on the staff and less worry on the family.
There are so many health benefits to keeping a pet. They encourage us to keep a schedule. Their need for taking walks can get us out into the fresh air for good exercise. And who doesn't stop to talk to someone walking their dog. These social connections are vital to older folks who often live alone. For the older adult who has lost their spouse, a pet plays a vital role in working through the grief.
My friend, Irene is in her mid 80's and loves her dog, Sophie. "I just need a dog," she said. "If I've been out and come back home, she treats me like the Queen of England!"
Experts have found that a pet can help lower blood pressure and ease the symptoms of depression. And who doesn't talk to their pet? Verbal responses are known to stimulate the brain and help keep dementia at bay.
Jim Roswurm, a retired veterinarian, enjoys his two Cairn Terriers. "They have an unbridled enthusiasm for life," he said. "Just a joy for living. It's like a spark plug start for me even when this old body is tired. It's impossible to stay depressed when my little dogs bring me a ball or a big, wet kiss."
For an elder who suffers with arthritis or is recovering from an injury, a pet can also be a part of their therapy. Throwing a dog a ball can help with limited mobility. Brushing their pet's hair can improve their grasp. The love and companionship of pets are tonics to our bodies and our spirits!
So, if you have a lonely elder, the chances are good that a pet would bring them great joy, a better outlook on life and the companionship they need.
By Angel Everett
Do you ever wake up and feel a bit stiff? I do. It can be caused from overdoing it the day before or just because I'm getting into those Prime Time years. My mother stays in perfect shape – something she failed to  pass along to me. But when she was recovering from a major illness, she found stretching to be a great way to start her day. I'm glad she shared these tips with me.
Here's a few ways to stretch your muscles and make mornings more enjoyable.  My mother always started with her legs. Your largest muscles are in your legs and buttocks, so it's a good place to start and you begin
while still in your bed.
Leg Stretches
Laying on your back, bend one knee up towards your chest.  You can use your arms to steady and support your leg. Slowly, extend your leg out and up. Lower you leg to the bed, as slowly as you can. Alternate legs and try to do five on each leg. Don't overdo – this one you'll really feel in your stomach muscles.
Hip Twists
While still on your back, put your arms out wide and push against your bed. Bend one knee up and roll it over in the direction of the other leg. You should feel a stretch in your waist and upper hip. Repeat four times on each side. Don't force your knee too far. You want to stretch gently.
Hello Toes!
While sitting up on the side of your bed, slowly bend at the waist and bring your hands down on top of your ankles. Perhaps you can touch your toes. I just aim for the ankles. Rest for a few moments in this position
and relax. Slowly return to a sitting position and then flex your shoulders back for a good chest stretch. Just a couple of these will do.
Shoulder Rolls
While still sitting on your bed, place your hand on top of your thigh. Roll your shoulder making slow circles. Try both directions. Repeat 10 times for each shoulder. Then put one hand behind your head. Slowly move
your elbow out – stretch your arm backwards and then to your front. Repeat 10 times with each arm.
Foot Lifts & Circles
Sitting with your feet firmly on the floor, lift your heels one at a time. Remember, slower is best. Repeat five times per foot. Then, extend one leg out and make circles with your foot. Just work your ankles. Try to do 10 circles in each direction on both feet.
Head Circles
Very slowly, move your head in circles. Start with your chin on your chest. Do this as slowly as you can to feel the stretch in your neck.  As you roll your head towards your shoulder, try to point your chin at your shoulder. Turn your face towards the front and slowly tilt your head back. Turn your chin towards your other shoulder and carefully tilt your head down. Return to your head near your chin. I love the way this loosens my neck muscles.
Never do anything that hurts you. Stretching should be an enjoyable part of your day. If you have any chronic pain in your muscles or joints, talk to your doctor before trying these.
By Angel Everett
Soon, the holidays will be upon us and cold weather will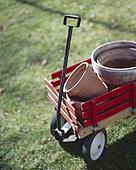 make it less than inviting to get outside. But while the weather is still enjoyable, it's a great time to spruce up the yard and make it safer to enjoy!
Since falling is the #1 cause of accidental deaths among seniors, it's imperative to keep your yard and entry safe to use. Tripping hazards should be the number one priority in the garden as well as in your home. Other concerns on safety are lighting and accessibility. You need to make sure your porch lights are adequate and your walks and steps are in good working order – free from obstructions. Rails should also be inspected for their reliability. Who wants to grab for support if it won't do its job!
If you're still using your outdoor furniture, you may wish to put off storing it for a while. This might be a great time to clean up and store your grills and barbeques. They'll last much longer if stored inside for the winter.
The first thing we do when tackling yard clean-up is to grab a bucket and my trusty radio-flier wagon. We bought it for my first grandson when he was just a baby. The truth is, we've gotten more use out of it than he has. It's wonderful for garden chores. We pick up trash and items we want stored before we do our maintenance. We can see better what needs to be done, once the clutter is gone.
Tools to have handy – Pruning shears, shovels, garbage can or bags, bucket of soapy water, paper towels, rake, yard broom, and a buddy won't hurt! Make sure your shoes have soles that keep you from slipping while you wash your sidewalks and patio.
Start with your porches and entries –
Check to see if your porch light is working right. Use the highest watt bulb allowed by the manufacturer. Also make sure that foliage isn't obstructing the light. Clean off the glass or plastic guards. Trim back any shrubs or tree limbs that obstruct the light. It's also a good time to give the door and windows a good cleaning.  Check to see if the weather stripping is in good shape.
Make sure your steps are clear from encroaching foliage. Any clutter that has accumulated around your door or steps should be stored or tossed. You might want to wash and clean your steps with water and your yard broom to keep slippery mold and moss from causing a fall.
Check your handrails for sturdiness. You might need help if rails need reinforcing. Gutters over your porches may also need to be cleaned. You don't want excess water falling on your head and making puddles on your porch. Get help for this chore. Never climb a ladder without someone to spot you! There are some neat gadgets you can attach to your hose that allows you to flush your gutters without your feet leaving the ground.
Sidewalks and lawns –
Sidewalks should be in good shape and free of clutter and leaves. Give your sidewalks a good wash and scrub to eliminate slipping hazards. Trim back shrubbery or plants that are creeping over the walks. Check the lawn for divots and holes. Fill holes and divots with extra dirt. While the lawn is a lot softer to fall on, do you really want to take a tumble?
Garage Entrance –
If you have a detached garage, you'll need to check on the light outside the entry – make sure it's working and the glass is cleaned. Walkways leading to the garage should also be free of clutter, encroaching shrubbery and leaves. Great time to give that door a scrub also! 
Patios and decks –
Look for loose boards on your decks and trim back any plants from the steps. Give the patio a scrub with your stiff yard broom and spray it off well. Check your patio lights and it might be a good time to invest in those little solar lights. We love putting them in our potted plants near the sidewalks.
We hope weve inspired you to get your yard in shape for safety's sake!
 submitted by Nelson Landing, guest writer
By Karen Everett Watson
Clutter . . . most of us have it. It's those stacks of newspapers and magazines left by the easy chair. It's the stacks of paper bags in our pantries. You can find it in our closets, our bathrooms and even under our beds. It makes it hard to clean and fills our homes with chaos, but did you know it can kill?
The #1 cause for accidental deaths among seniors is from falling. Clutter can easily cause us to trip and end up in the emergency room. These falls can be life altering. So, before your clutter kills you, why not take control and get a handle on this scandal?
I used to blame my clutter on the kids. I can't do that anymore. They've been gone for years. I just seemed to acquire stuff. Some of it, I can't even recall where it came from. So when blankets started falling on my head while loading my dryer, it occurred to me it may be time to throw something out.
I'm easily overwhelmed so I decided to take one room at a time. The laundry room is the smallest, so guess where I started? I store a lot of my blankets and clothes in the laundry so the first thing I did was sort through them all to decide what I really need to keep. Do you know in that six foot by five foot room I took out four boxes of unneeded blankets and clothes?
I tackled the living room next. First, I went through all those knick-knacks and kept only the most cherished ones. I went through all the magazines and put them in a sack to give away. No more stacks of magazines on the floor! And now I can dust in just a few minutes.
I'm not finished yet, but I do see a yard sale in my future. If you're not a yard sale advocate, look up your local charities for Greensboro. Here are some more tips I plan to use in the next few weeks. I hope they will help you too!
1. Only tackle one room at a time to avoid being overwhelmed.
2. Start inside your closets and cabinets.
3. Have plenty of boxes handy. One for trash, one for donating (or a yard sale) and one for things you might want to give to a family member.
4. Know that your kitchen will probably take more time than other rooms. So break that project down into doable two hour sessions. Have an extra box for your "keep" items. It will feel good to see a clutter-free kitchen before you decide what you want to actually keep.
5. Once you've filled your boxes, do your best to get them out of the house quickly. The cleared out room will inspire you to do the others.
6. Anything you haven't worn or used in the past year, consider it gone!
7. This is a good time to throw out expired medications. And no one needs 15 bars of soap!
8. Invite the kids and your grandkids over to help. Reward them with some of your discarded "treasures."
9. Remember what you give to charity you can write off of your taxes.
10. Now enjoy your clutter-free and much safer home!
What tips can you share to keep the home safer and clutter-free? My daughter-in-law tells my son and the kids, "nothing comes in unless something goes out."